A new central heating boiler is a major investment, so it's important to use fully certified Gas Safe engineers who are also experienced plumbers.
Pennington's plumbers are experienced professionals – fully Gas Safe approved – who will do a good job with the minimum of fuss. We prioritise safety and will give you realistic, practical advice before during and after the installation.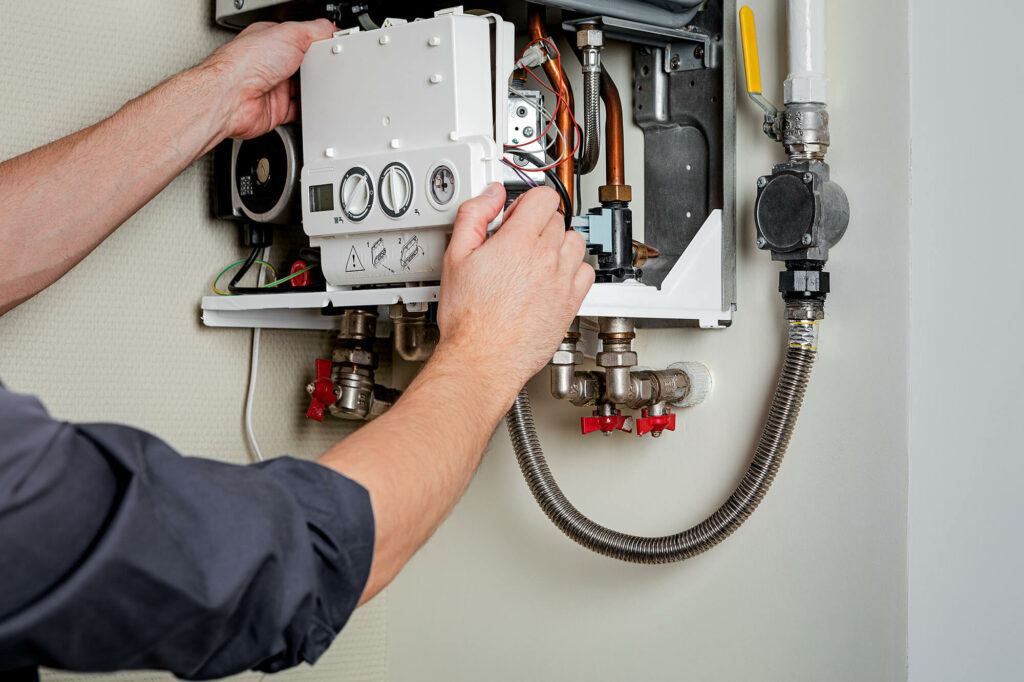 If your existing boiler is more than about 20 years old and is starting to show its age, then the chances are that replacement is a better option than repair. Indeed, it may not be possible to get spare parts for older boilers. This may be the opportunity to install a new model which is more cost effective and reliable. The same is true if your existing boiler is repeatedly breaking down, regardless of its age. And if this is happening in the winter, you'll want a quick and efficient solution – which we can provide.
Another time to instal a new boiler is when you are having an extension or refurbishment, as this will allow for a new boiler which will more comfortably meet your requirements.
Whatever your needs and preferences, all new gas boilers will use the condensing system to comply with the government's guidelines regarding A rated energy efficiency. A cost-effective, condensing boiler system is more efficient than 'traditional' models as it makes use of the flue gases in addition to the fuel supply.
Combination Boiler (Combi Boiler)
This is the most commonly installed new boiler. It's a small, compact system that heats water only when it's required, making it very energy efficient and economic to run. It's usually quick to install, as it doesn't require a storage tank or complicated pipework. One of the great advantages is that it provides an uninterrupted supply of hot water. It's ideal for small to medium sized properties.
There are some limitations to this system as it provides it for only one tap or shower at a time. Its water pressure depends on the mains supply pressure, which may also limit the use of a power shower. As a single boiler system, it may not suit families, although in larger properties it could make sense to install more than one boiler and run separate systems.
This is a compact version of the conventional boiler. There is no cold water tank in the loft, but it does require a hot water storage cylinder in an airing cupboard. It supplies several hot water taps or showers at the same time, but once the stored hot water has been used, a short time is needed to heat more. It is reasonably quick and easy to install. Because of the hot water storage tank, it is compatible with solar energy panels.
This is sometimes called a 'regular' or 'traditional' boiler. If it is installed in an existing property it may be chosen to match the current system and reduce upheaval. It uses two water tanks located in the loft and a hot water storage tank, usually in an airing cupboard. The defining feature is the separate hot water tank: it can supply several hot water outlets such as kitchen taps and multiple bathrooms, but once you've used up the water in the storage tank, you'll need to wait for the next tankful of water to heat up.
The hot water storage tank means that this system is also compatible with solar energy panels. However, because of its size and relative complexity, it is less suitable for small properties. It can also be more time consuming to install.