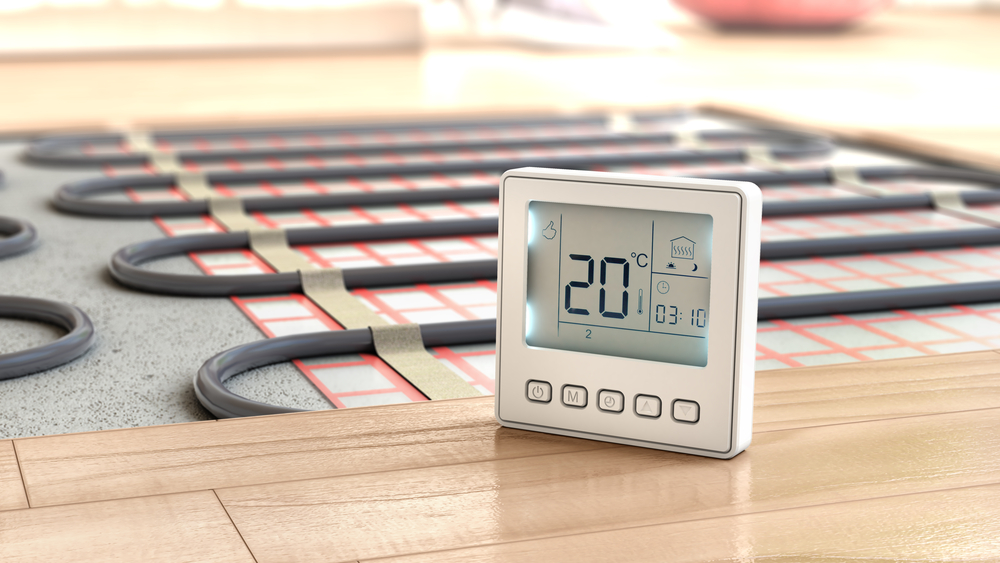 The use of underfloor heating has grown in popularity as an alternative to traditional radiator systems, particularly in areas such as bathrooms and ground floor extensions.
The modern options available for underfloor heating have made it a versatile heating solution that offers even warmth underfoot while simultaneously saving space and reducing the circulation of dust, which is especially beneficial for individuals with asthma.
The system works by circulating warm water through pipes installed under the floor, making it an efficient and effective way to heat a room. Its discreet installation and energy efficiency make underfloor heating an excellent option for homeowners looking for a modern and comfortable heating solution.
The Different Types of Underfloor Heating
Underfloor heating is available in two types – hydroponic and electric, providing homeowners with the flexibility to integrate it with their existing home heating system or use it as a separate electrical installation.
Although the initial cost of installing underfloor heating is an investment, it is offset by the lower running costs as it is more efficient than conventional central heating, which can result in savings of up to 30%. Additionally, it can increase the value of your property and make it easier to sell.
Due to its space-saving feature, underfloor heating is a popular choice for compact homes and seamlessly blends with minimalist interior designs, regardless of the property's size.
Electric Underfloor Heating
The electric or dry underfloor heating system is a cost-effective and straightforward installation method. It comprises a network of ultra-thin wires arranged on an insulation layer beneath the flooring. This type of underfloor heating is an excellent option for kitchens and bathrooms, especially where it will not be required continually.
However, electric underfloor heating is generally more expensive to operate compared to the hydroponic system, though this may change in the future.
Nevertheless, it remains an efficient and convenient way to heat specific areas of a house, with the added benefit of being easy to install.
Hydroponic Underfloor Heating
The hydroponic underfloor heating system uses warm water that passes through a network of narrow pipes. This system can be connected to your current central heating system or, in some cases, a separate boiler, especially for larger extensions.
Although the hydroponic underfloor heating system is generally more costly to install than the electric alternative, it is often cheaper to operate.
The efficiency of this system is due to its ability to utilise warm water from your current heating source, thereby reducing the overall cost of energy.
So, What Are The Underfloor Heating Costs?
The cost of installing underfloor heating varies depending on several factors, including the type of system you choose, the size of the area to be heated, and the complexity of the installation process.
On average, the cost of installing electric underfloor heating is cheaper than installing the hydroponic system.
However, the electric system is generally more expensive to run. On the other hand, the hydroponic system is more costly to install, but it's usually more cost-efficient in the long run.
The installation costs may also vary depending on the type of flooring and insulation required. It's best to consult an expert in underfloor heating installation to get an accurate quote for the installation and running costs.
How We Can Help You
We are a reputable and experienced provider of underfloor heating installation and maintenance services. Our team of experts can offer valuable advice on the most suitable system for your specific property and requirements.
We provide a free, no-obligation site visit to discuss your needs and offer an underfloor heating cost estimate. This service is helpful in determining the most cost-effective and efficient underfloor heating system for your home or building.
With our knowledge and experience, we can ensure that your underfloor heating system is installed to the highest standards and maintained correctly to maximise its lifespan and performance.