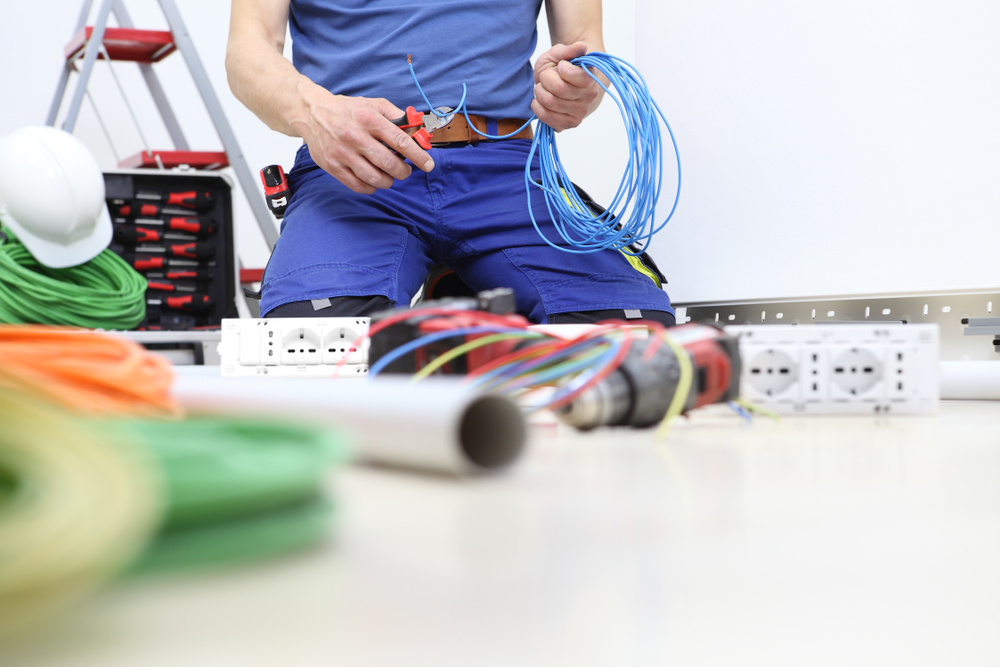 February 15, 2022
By admin
As we modernise our homes and enter an increasingly technological era, electrical precautions need to be taken to ensure maximum safety and effectiveness. Electrician Hersham is aware that the addition of new appliances and devices in our homes imposes risks such as poor performance or damage if the wiring is not working well. Periodic checkups by our experts at Pennington's ensures that the wiring is never faulty or out of date, thus boosting performance and safety levels. 
Time Taken to Rewire a House
The length of time is usually dependent on the size of your house as well as the scope of the project. Electrician Hersham prides itself on being time efficient whilst producing work of a high standard to protect you and your home. 
Generally, the rewiring of a house takes between 2-10 days to complete. Other factors that determine the time include whether there are occupiers or furniture present while the work is being carried out. 
Can I Continue Living in My Home Whilst It Is Being Rewired?
Of course you are able to stay in your home whilst electrician Hersham rewires it. However, keep in mind that there will be some mess and disruption, including an increased amount of dust particles so do keep your distance if you're allergic! 
Electrician Hersham does carry out rewiring in both occupied and unoccupied homes as we realise that not everyone has the luxury of being able to stay somewhere else and your safety and satisfaction is of utmost importance to us. Read up on our values. 
In order to make things clearer, electrician Hersham have compiled a list of circumstances that affect the time taken to rewire a house: 
The size of your home affects the time taken for electrician Hersham to get around and fix the wiring. 
Number of rooms that need rewiring
The larger the scope of the project, the more time is needed for electrician Hersham to carry out the rewiring. For example, a 4-bedroom property rewire will take double the time of a 2-bedroom rewire due to the higher number of sockets. 
Number of modifications being made 
Similar to the last point, the number of sockets being installed clearly affects the time taken as electrician Hersham installing 20 sockets will take half the time in comparison to installing 40. 
If your home is fully furnished and the furniture is in the way of where the rewiring needs to be carried out, more time would be needed to move the furniture out of the way. 
If you don't have an issue with some mess and disruption being present, electrician Hersham is more than happy to carry out the necessary rewiring whilst you remain in your home. However, this could take longer due to furniture constantly having to be moved as well as electrician Hersham not having access to some areas until the green light is given by you. 
How Long Until I Feel Settled in My Rewired House?
Electrician Hersham prides itself on our reputation in the area, which includes our quality service and reliability, so you should be settled and ready to use your appliances safely right away. 
However, after our highly skilled electrician Hersham finish up the project, you might decide to make some alterations to feel fully comfortable and content in your newly rewired home. Because electric wires run through walls and flooring, you may need to replaster, repaint or even add wallpaper to your walls. The timing varies from a few hours with painting and wallpapering to up to 2 weeks with replastering. 
We offer our services in a plethora of other areas, check out our testimonials from our clients in Guildford!
Why Choose Electrician Hersham?
Our reputation supersedes us in the local area. Electrician Hersham has a track record of business success and repeat customers. Electrician Hersham is highly transparent and time efficient with every project carried out because we understand good service and value our customers' satisfaction. We've built our business and reputation with hardworking and passionate professionals who take pride in their jobs and the service they provide. 
Electrician Hersham believes it is our responsibility to be eco-conscious with every single project we carry out. All wasted materials during the rewiring of a house are collected and recycled at local centres. Electrician Hersham are strong believers of only using materials that are needed for the project. Therefore, when ordering materials from our wholesalers, we have a strict sale or return agreement. 
We also plan on having all engineers use electric vehicles by 2025 to have as little impact on the environment as possible. 
If you ever feel in need of a house rewiring or a simple checkup to ensure you and your home are completely safe, get in touch with Pennington's Electrician Hersham at 01932 259 620 or email us at info@penningtonsgroup.co.uk. If you have any more questions, please also check out our FAQ section. To read more about electrician Hersham, click here. 
Not based in Hersham? Check out our electrician Oxshott!